First Lady Michelle Obama
Early Life and Career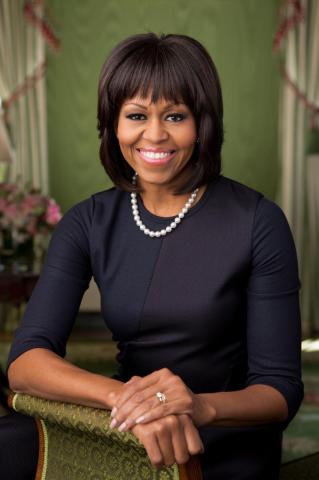 Michelle Robinson Obama was born in DeYoung, Illinois, on January 17, 1964, to parents Frasier Robinson III and Marian Shields. She grew up in Chicago's South Shore neighborhood with her older brother Craig, attending Chicago Public Schools and quickly joining gifted classes in elementary school.
Mrs. Obama graduated in 1981 as class salutatorian from Whitney Young High School, Chicago's first magnet high school. She followed her brother to Princeton University in New Jersey, graduating cum laude in 1985. She earned her Bachelor of Arts degree, majoring in Sociology with a minor in African-American Studies, which informed her senior thesis: "Princeton-Educated Blacks and the Black Community."
In 1988, Mrs. Obama received her law degree from Harvard Law School. Following graduation, she was hired by the Chicago corporate-law firm of Sidley & Austin, where she specialized in entertainment law, and was ultimately assigned as advisor to summer associate Barack Obama. After leaving Sidley & Austin in 1993, Mrs. Obama worked for the city of Chicago's Department of Planning and later the national service organization Public Allies.
Barack Obama and Michelle Robinson were married in 1992 at Chicago's Trinity United Church of Christ. They have two daughters, Malia and Natasha "Sasha."
Mrs. Obama accepted the position of Associate Dean of Students at the University of Chicago in 1996, where she also served as director of the University Community Student Center. In 2002, she became the University of Chicago Hospital's Director of Community Affairs, and was promoted to Vice President of External Affairs and Community Relations in 2005.
At the 2008 Democratic National Convention, Mrs. Obama was introduced by her brother, Craig Robinson, and delivered an address to the convention.
Presidential
During her husband's administration, Mrs. Obama launched multiple initiatives. Let's Move! targeted childhood obesity by encouraging kids to participate in physical activity and revamped US school lunches to include more nutritious food options. To illustrate healthy meal planning at home and encourage Americans to learn about where their food comes from, Mrs. Obama planted a vegetable garden on the grounds of the White House in 2009—the first since Eleanor Roosevelt's Victory Garden during World War II. Harvest from the gardens were cooked in the White House kitchen and provided to Miriam's Kitchen, a local organization serving the homeless community in Washington, DC.
Detailing her efforts in establishing the White House kitchen garden, Mrs. Obama published her first book, American Grown: The Story of the White House Kitchen Garden and Gardens Across America, in 2012.
In 2011, Mrs. Obama collaborated with Mrs. Jill Biden to launch Joining Forces, an initiative rallying American civilians and their organizations to support US service members and veterans and their families. The initiative used a three-prong approach—employment, education, and wellness—for organizing national efforts to provide additional tools to the US military community.
The Reach Higher initiative encouraged all American students to aspire to education beyond high school, through training programs, community college, or university. Expanding her educational goals to the international level, the Let Girls Learn program drew together resources from the US Department of State, US Agency for International Development, Peace Corps, Millennium Challenge Corporation, and US President's Emergency Fund for AIDS Relief (PEPFAR) to empower young girls across the world to secure a quality education.
Works Published by Michelle Obama
American Grown: The Story of the White House Kitchen Garden and Gardens Across America, 2012
Becoming, 2018
The Light We Carry: Overcoming in Uncertain Times, 2022